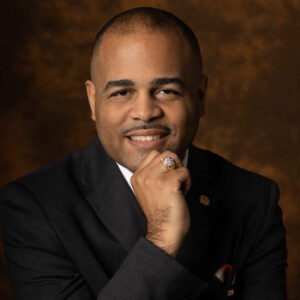 Attorney Travell Travis is a native of Martinsville, Virginia, and a 1996 graduate of Fieldale-Collinsville High School. He received his B.A. in 2000 from the University of Virginia with a double major in History and African American Studies and a minor in Religious Studies. He received his J.D. in 2003 from Howard University School of Law.
Since 2003, Attorney Travis has been employed by the Hampton University School of Business.   Attorney Travis teaches entrepreneurship and business law courses as a faculty member in the Center for Entrepreneurial Studies.  In addition, from 2004-2017, Attorney Travis served as an assistant dean for the School of Business.  He is a past recipient of the Hampton University Chancellor and Provost Teaching Innovation Award and the Hampton University Academic Excellence Award.
In 2005, Attorney Travis opened the Law Office of Travell Travis, P.L.C.; a general practice law firm. His firm represents pastors, entrepreneurs, creative, and the community. Attorney Travis is admitted to practice law in the Commonwealth of Virginia and the District of Columbia.  He is a member of the Apostolic Law Association.  He regularly presents seminars on entrepreneurship and various legal matters. His educational videos on these subjects can be found on social media and on this website.
Since 2009, Attorney Travis has served as the founding pastor of City of Refuge Way of the Cross Church in Richmond, VA.  Within the Way of the Cross Church of Christ International, he is a member of the general board of bishops, trustee board, and serves as the organizations general counsel.  He also serves as the auxiliary bishop for prayer and altar workers.  From 2007-2019, Bishop Travis served as the 9th President of the International Youth for Christ.
Attorney Travis is the author of several scholarly journal articles. He is also the author of two books: Don't Eat the Baby: The Characteristics of a Cannibalistic Church (2018) and Where Will the Mantle Fall: A Biblical and Legal Guide to Succession Planning (2020).
Attorney Travis is married to the former Sherina D. Mason, of Philadelphia, PA.  They reside together in Richmond, Virginia, with their three daughters: Deonna, Janiyah, and Amiyah.